Our Chicken Coop Reviews

See What Our Customers are Saying
We're always eager to hear from our customers on their experience with using our chicken coops for raising backyard chickens. If you've purchased a coop from us, please take a few minutes to leave a chicken coop review. Or if you're considering making a purchase feel free to browse our reviews from past customers.
Loving our new home
"Loving our new home, still have to train the babies and attach the other two runs but it exceeds our expectations and the delivery driver Tommy did an amazing job to get it exactly where we wanted. He was such a nice guy! It has been such a pleasure doing business with you all. A few of our ladies have stuck their head in the door but nobody has gone in yet…they are getting curious…we have carried a few in…"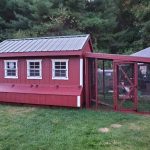 Dorothy B.
Coop exceeded my expectations
"Keeping the chickens secure from all the predators around us plus making caring for them easier were my two main focuses and that coop exceeded my expectations. "
Pattya H
It is amazing
It is so functional for my chickens but also a nice decoration in my back yard. Everyone loves the design and look and cannot believe it is a chicken coop. I love the auto door and the vent in the back. The coop keeps my flock safe and secure. I never have to worry about anything. I had it wired for the light, auto door, and heated roosters. It is amazing and I could not be more satisfied!
Matt Rasband
The mark of an excellent company
The mark of an excellent company can be seen in how they manage an unforeseen problem. During delivery, our coop was inadvertently sprayed with tar from a road construction project in Pennsylvania. The manager responded promptly and rectified the situation in a manner that completely satisfied our expectations. The coop is very well constructed and is beautiful!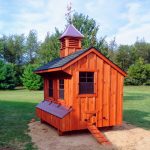 Jason Maynard